In Memory of Rhett Keene, P.E.
Rhett Russell Keene was born and raised by Ira Russell and Diana Keene, in the Tampa, Florida area and had one sister, Siena. He moved to Stuart in 2001 to work, at the age of 28. Like many in our community, Rhett recognized that Stuart was paradise and decided this would be a great place to raise his family; Candi (wife), Bryce and Corbin (sons).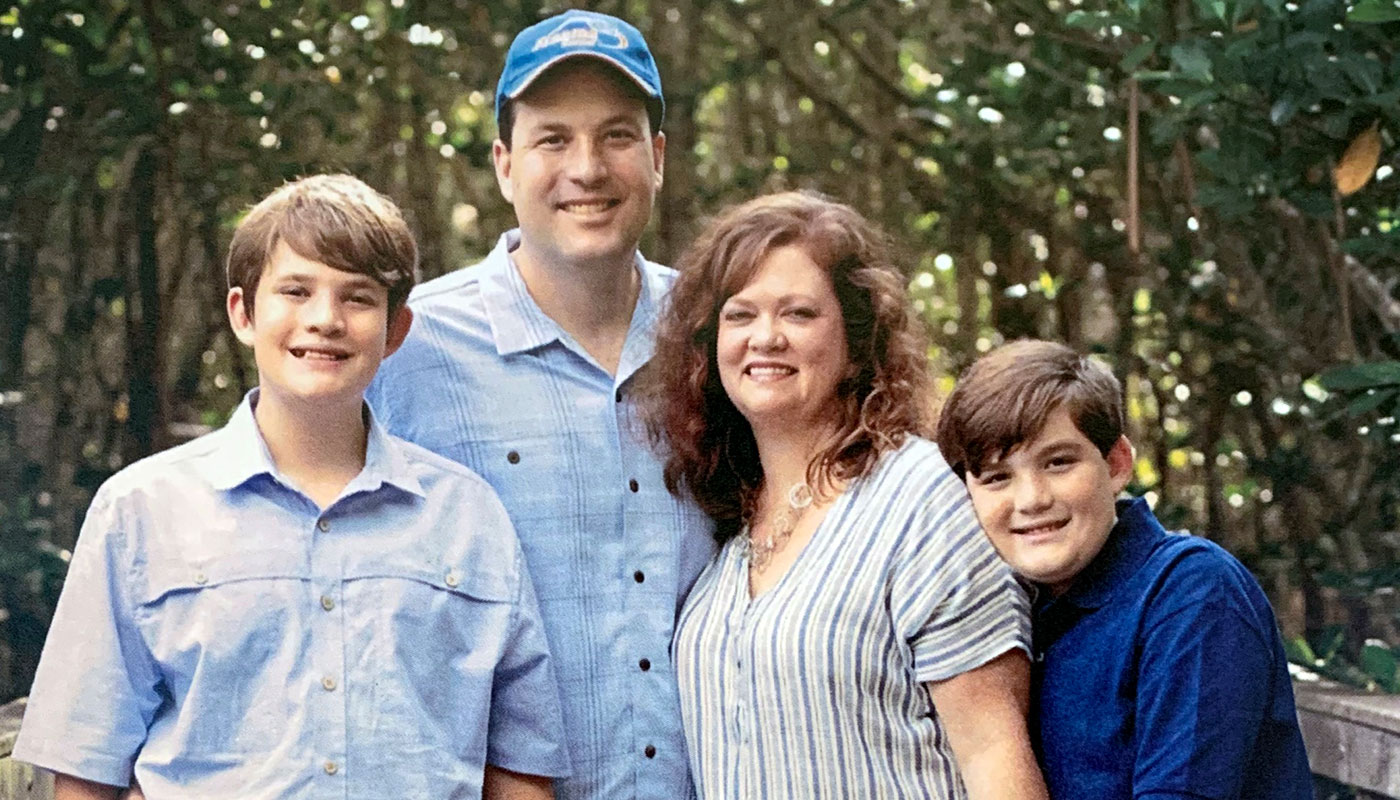 Rhett Keene, PE, was employed by CAPTEC Engineering, Inc. on August 13, 2001 as a Sr. Project Manager / Director of Engineering and was a dedicated Engineer for 18 years. The projects and accomplishments Rhett provided to our COMMUNITY are enormous in value. These improvements could only be created by a talented Engineer.
Nobody was more loved at CAPTEC, in our 23 years of business, than RHETT KEENE.
He trained and mentored all staff and they in-turn respected and provided Rhett the information he needed to complete his projects. He always gave all his staff plenty of opportunity to do a better job. Rhett was capable of firing staff, but he also was always willing to give them another chance.
Rhett's colleagues; whether Surveyors / Geotechnical Engineers / Structural Engineers / Mechanical Engineers / Biologist / Environmentalist or even an Attorney, he listened. collaborated and worked in harmony to create the best designs to get his projects permitted, approved and ready for Construction.
THE CLIENTS: All wanted Rhett to work on their projects. They knew he would provide the best design and he knew every aspect of his projects and could tweak them to meet any Clients request.
THE PROJECTS: In today's newspapers we read about the water crisis; many speak about the Everglades / Lake Okeechobee and the St. Lucie River. Rhett's projects are much smaller, but just as complicated. These projects are located in the local Basins that drain into these much larger South Florida Water Resources. Rhett's projects have been located in the C-23/C-24 Basins, the Savanna State Park, along the Manatee Pocket, the St. Lucie Estuary and the Indian River Lagoon.
Rhett provided major storm water models for well over 50% of local Sub-Basins in Martin County and Port St. Lucie. These models replicated storms and Rhett would suggest improvements and he would produce nutrient reduction type improvements. Besides improving the quality of water going into our rivers; Rhett's models and work reduced flooding levels in every Community.
He helped all Communities obtain millions of dollars in Grants. Also, he would complete their Final Construction Plans and Monitor the Construction. These projects were Rhett's creation and he insisted they were completed properly!
Rhett's projects are everywhere on the Treasure Coast – all shapes and sizes:
In Martin / St. Lucie County, he provided the model for the 20,000 acres that drain through the Savanna State Park Preserve. This will allow our local governments to adjust Stormwater flows to help the environment and reduce flooding in all the Communities from Fort Pierce, in St Lucie County, to Rio in Martin County.
In Martin County a few projects Rhett designed included; The Tropical Farm Stormwater Retrofit at Phipps Park, with its deep ponds, Stormwater Treatment Areas and Boardwalks, this has become a major Camping destination in Martin County.
For the many Stormwater Basins that discharged into the Manatee Pocket. Rhett and his friends from the Martin County Engineering Dept. created "State of the Art" natural improvements to alleviate flooding and to remove nutrients prior to discharge into the Manatee Pocket.
Other projects Rhett designed and managed in Martin County included; The recently remodeled Ocean Breeze Park project on Indian River Drive, an old mobile home park, which they removed all the septic tanks, improved Indian River Drive, provided traffic calming and many Stormwater Retrofits throughout the Town. The Owners replaced the old mobile homes with beautiful southern style modular homes.
In the Martin County neighborhood restoration project program; Rhett designed Subdivision storm pipe replacement projects in the Subdivisions of Pinecrest Lakes, North River Shores, Palm Lake Park and Fisherman's Cove.
Rhett prepared Utility adjustments for Martin County Utilities on the Kanner Highway Improvements project.
One of Rhett's most recent creations was the St. Lucie Shores Retrofit located on South Mapp Road. This was recognized by the County Administrator as the number One (#1) Stormwater Retrofit Improvement project that Martin County completed in 2018.
For the past 18 years, Rhett provided most of the Development Reviews for the City of Stuart. He made many local Engineers mad with his comments, but he cared about this Community and wanted everyone to provide their best designs.
Probably one of Rhett's most recent impactful projects is his Septic to Sewer project, a Study he completed for Martin County Utilities. After dozens of hours of research, he prepared concept designs, cost estimates and a ranking of Subdivisions along our water ways that would benefit from septic tank removal. The purpose of much of Rhett's work is to note the problems, model and design solutions while keeping funding in the forefront for his clients. Rhett and his colleagues identified the problem areas next to our water ways.
He would be proud to hear that Martin County is working to complete these projects in the next 10 years as a priority to make our waterways clean.
In the City of Port St. Lucie, Rhett designed the; The EWIP, $36 million, Retrofit throughout the U.S. No 1 and Lennard Road area. He designed the major roads in the Traditions Town Center Area/ Village Parkway and Community Blvd. He also provided the Phase 1 Site Improvements for the Tradition Medical Center, the new Cleveland Clinic Port St Lucie Hospital.
Rhett worked with the City of Port St. Lucie and programmed all the Control Structures in Port St. Lucie so they can be monitored, updated and maintained, so all PSL residents do not have to worry about flooding in their houses and on their roadways.
The current City of PSL McCarty Ranch Water Farm has just completed the construction of Areas 1 and 2; just over 200 acres. There are 6 areas of storage areas that will be filled with water from the C-23 Canal. This is the large Canal between Martin and St Lucie County and when 6 areas are completed, 9 billion gallons of stormwater a year will be stored to avoid discharge into the St Lucie River. This was one of Rhett's last Designs and Projects.
The Newspapers and Politicians talk of a water crisis – Rhett has been working on these problems for 18 years. These are big problems that need a big man like Rhett to solve. He did solve many.
Rhett was a southern gentleman – a man of exceptional character. He mentored many to take over when he would not be here. His sons and colleagues have a lot to live up too, but they are better prepared because of Rhett's Hard work. Rhett accomplished more in 45 years of lift than most that live for 100 years.
Because of the fine raising from his parents and the love of his family and engineering, you can see he left this world in a better condition than what he was given.
It won't be hard to remember Rhett – He has projects he designed on every corner of this Community.
Today he is in Heaven, helping the angels handling all the flood of tears that the Lord will be receiving from his tragic story of Brain Cancer cutting his life short. Before his resurrection into Heaven – Rhett was a disciple of Jesus Christ and lived his life full of love for his Family, his Friends and his Community.